Truck Alignment JLY-TAR-3
Introduction:

Truck Alignment JLY-TAR-3 Use axis of frame to be alignment base;Fixed stand post stuff gauge
Hotline:

0086 13925106748

Product Details:




Number of measurable axis: dual axis




. Measurable vehicle length: 14m




. Total toe-in of each axis: +10°~-10°(±0.02°)




. Single toe-in of each axis: +5°~-5°(±0.01°)




. Camber of each wheel: +10°~-10°(±0.01°)




. Caster of turning wheel: +25°~-25°(±0.03°)




. K.P.I of turning wheel: +25°~-25°(±0.03°)




. Nonperpendicular degree: +10°~-10°(±0.02°)




. Parallelism between main and vice turning wheels: +10°~-10°(±0.01°)




. Parrallelism between main rear axle and vice rear axle: +10°~-10°(±0.01°)




. Max. turning angle: +40°~-40°(±0.05°)




. 20 degree anti toe-in: +5°~-5°(±0.03°)



Product Details:
Number of measurable axis: dual axis
. Measurable vehicle length: 14m
. Total toe-in of each axis: +10°~-10°(±0.02°)
. Single toe-in of each axis: +5°~-5°(±0.01°)
. Camber of each wheel: +10°~-10°(±0.01°)
. Caster of turning wheel: +25°~-25°(±0.03°)
. K.P.I of turning wheel: +25°~-25°(±0.03°)
. Nonperpendicular degree: +10°~-10°(±0.02°)
. Parallelism between main and vice turning wheels: +10°~-10°(±0.01°)
. Parrallelism between main rear axle and vice rear axle: +10°~-10°(±0.01°)
♦Standard Configured
| | |
| --- | --- |
| Measuring Heads | 4pc |
| Cabinet | 1pc |
| Computer | 1pc |
| Keyboard and Mouse | 1set |
| Monitor(19") | 1pc |
| Clamps | 4pc |
| Turntables | 2pc |
| Hanging target | 2 sets |
Accessories of JLY-TAR-3 truck and bus wheel alignment .
Packaging Details: Original standard package for shipping
Delivery Detail: within 10 days after deposit
1. One year will be offered warranty for truck/ bus wheel alignment .
2. One set truck/ bus wheel alignment available to order.
3. We will reply you for your inquiry in 24 hours.
4. After sending, we will make the necessary documents for your Import customs clearance. When you receive your truck/ bus wheel alignment , please give me a feedback.If you have any questions about the problem, contact with us, we will offer the solution for you as the situation.
Guangzhou Junliye Import and Export Co.,Ltd is a professional large-scale manufacturer of all types of garage equipment, integrating development and production together. Our company was established in 2003, and we have more than 10 year experiences in doing export business. Our product has been shipped to worldwide, include South America, North-America, Africa, Europe, Middle East Asian, Southeast Asian, Oceania. We also have R & D team committed to produce the better performance wheel alignment and car lift.
Based on the trading belief "Focus on customers ", our company is calmly handling the changeable market competition. For our trading process, we are not just selling our automobile supplies but the spiritual cultures and services to realize our work aim "seeking for customers' further satisfaction".Welcome to join us!
Our Factory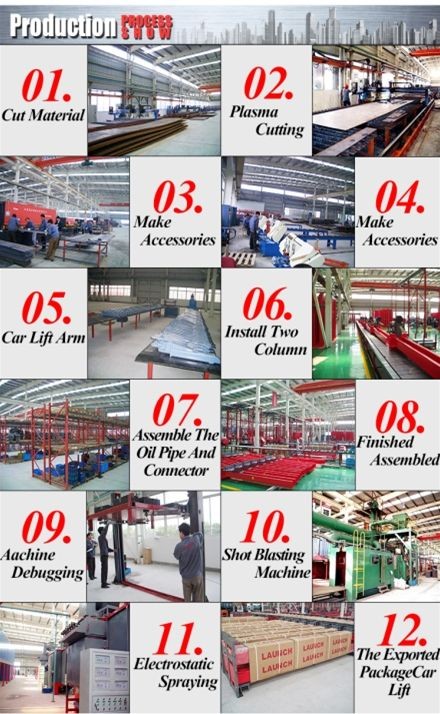 Do you still need other truck service equipment ??
Contact to me here:
Tel: 0086-20-86394322
Phone NO.: +8613925106748
E-mail: lilichen@431tool.com
*

Required
order:Truck Alignment JLY-TAR-3